Piranesi, or: the (re-)Invention of the Past / Giacomo Pala
A lecture on Giovanni Battista Piranesi by Giacomo Pala: the re-invention of the past. In this lecture, Piranesi's work is addressed as the result of a combination  between an empirical attitude and an imaginative one: the attempt to understand and give an expression to ancient architecture.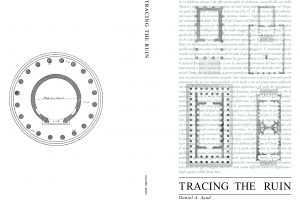 Tracing the Ruin / Daniel Ayad
The discovery of a natural phenomenon, historical evidence, or any such fact which is otherwise obscure or unknown not only expands the breadth of our view of reality but also aids in identifying its extents. But what does the process of discovery actually entail?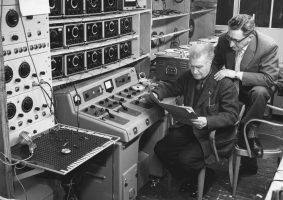 Sound Microbes / Cornelia Toifl
How electronics changed music and the perception of space With the help of actor network theory (ANT) as defined by Bruno Latour and Michelle Callon in the 1980s, this scientific work establishes the connection between the development of electronic music and the perception of space. "Poème électronique", a composition by Edgard Varèse, was a decisive […]
Lockdown Madness / Julia Beck & Nadine Sturm
35-year-old Charlotte wanted to turn her life around, and she wanted to do it properly. She has been struggling with her job at the advertising agency for a long time and things are not going well with her family. But only her best friend knows how much she is seething. And maybe that's just as […]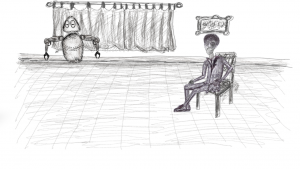 Characters Test / Lorenz Foth
The characters in the series of animations stay anonymous throughout all short movies. They are mostly referred to as "a person", "someone" or similar. With the exception of the character "Professor Deborah Williams" in the first animation (Deus ex Ma(s)china. Intro). Later on in the series, she loses her name – and also becomes "a […]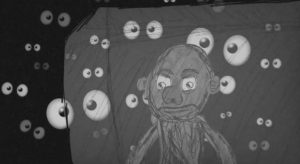 Advanced Architectural Theory / Egosphere / Lorenz Foth
EGOSPHERE by Lorenz Foth Egosphere is an animated short film by Lorenz Foth (2021). The intention of the film is to visualize irony in spatial (physical space) configurations. Initially it was meant to analyze different forms of `inhabiting uninhabitable spaces`, which would mean inhabiting spaces where special advanced technology and isolation would be required in […]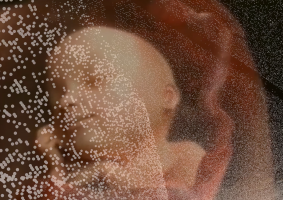 A journey around the hyperconscious / Magdalena Recheis & Florian Fesel
A 27-year old french man called Xavier de Maistre who undertook a journey in his bedroom in 1790. He loved discovering, as it was a trend already at this time. Discovering the world and travelling to other continents. Xavier's dream was to fly, so he tried to build a pair of giant wings and wanted […]
The ride for mental health / Noah Balla, Mahira Karic, Mihaela Pejcinovic
By virtue of our mind, the human species must surely re-present the culmination of this grand experiment of nature we call life—for, as far as we can detect, we are the first organism to have developed the fully conscious ability to sufficiently understand and thus manage the relationship between cause and effect to wrest management […]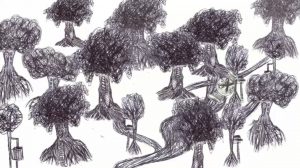 Story of a God / Lorenz Foth
"WARNING! Are you sure you want to shut yourself down to an automaton level? This will completely erase your consciousness and your ability to evolve. Are you sure? YES/NO" In arts, the term automaton is used to refer to sculptures or puppets that are capable of performing complex movements through the turning of crank and […]